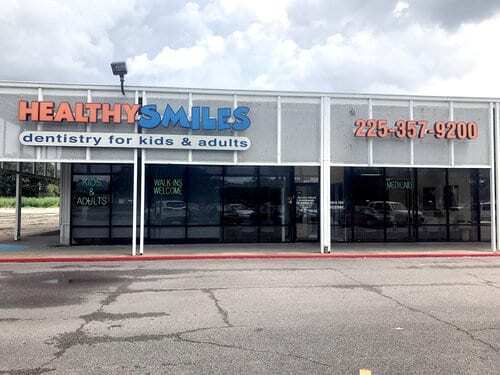 5842 Plank Road Baton Rouge LA 70805-1320
Cross Streets: Hollywood St & Plank Rd
Across from Piggly Wiggly
Get Directions
---
Healthy Smiles - Family Dentist Located in Baton Rouge
Let the good times roll with Healthy Smiles in Baton Rouge. Our office, located just off Plank Road next to the Piggly Wiggly, is a one-of-a-kind dental office; focused on creating a high-quality experience for both adults and children. We try to combine the best patient experience with unbeatable pricing and a knowledgeable, well-trained dental team. We offer hassle-free insurance claims and provide evening and weekend hours for your convenience.
As a family-friendly dental office, we offer a wide array of services to meet each individual need, including: dental check-ups, teeth cleanings, tooth extractions, X-rays, root canal, dentures, teeth whitening, and more. All of our Baton Rouge dentists are experienced in performing all avenues of general dentistry. Unlike some dental practices that only provide limited services, we see and treat any/all dental problems with superior results. As a company founded by a dentist, we make sure all decisions are based upon what is best for our patients, plain and simple.
Our goal is to make sure this is the last dental office you have to look for in Baton Rouge. At Healthy Smiles, we are committed to expanding access to quality dental care for families. Whether you were "Born on the Bayou" or only in town for Mardi Gras, we pride ourselves on bringing top-notch dentistry to all members of the Baton Rogue community, regardless of their payment method.