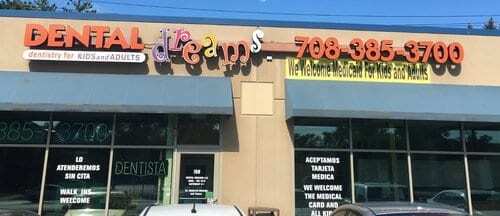 12200 South Western Avenue #108 Blue Island IL 60406
Cross Streets: S Western Ave & 122nd St
Across from Aldi
Get Directions
Your information is secure, we will not share or sell your information.
---
Dental Dreams - Family Dentist Located in Blue Island
Dental Dreams in Blue Island, Illinois, located on South Western Avenue across from Aldi is focused on creating the best experience for our patients and providing top-of-the-line dental services for adults and children. We combine unbeatable service with competitive pricing and team of talented, well-trained dentists. We welcome all forms of dental insurance and offer hassle-free insurance claims.
We are a family-oriented dental office that offers a wide variety of services to exceed you and your family's dental needs, including: dental check-ups, teeth cleanings, exams and X-rays, root canal, tooth extractions, teeth whitening, and more. All of our dentists are fully licensed professionals approved by the Illinois Dental Board. Unlike some dental practices that only provide limited services, we provide comprehensive dental services to meet the needs of each and every patient. As a company founded by a dentist, we place patient care ahead of profitability, a Dental Dreams guarantee.
At Dental Dreams in Blue Island, we are committed to expanding access to quality dental care for families. We pride ourselves on bringing top-notch dentistry to all members of the Blue Island community, regardless of their form of payment.