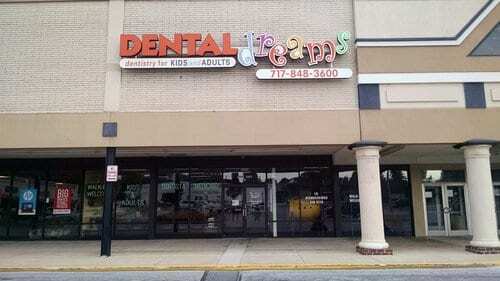 351 Loucks Road, Suite E4 York PA 17404
Cross Streets: Memorial Hwy & Loucks Rd
Next to Old Navy
Get Directions
---
Dental Dreams - Family Dentist Located in York
Dental Dreams in York, Pennsylvania is the perfect home for anyone looking to get their teeth whitened after a day of wine tasting on the Mason-Dixon wine trail. Our office, located in The Crossroads Shopping Center next to Old Navy, is focused on creating the best experience for patients and providing top-of-the-line dental services for both adults and children. We combine an unbeatable experience with unbeatable pricing and a knowledgeable, well-trained dental team. All forms of dental insurance are accepted, including PPO and Medicaid.
As a family-friendly dental office, we offer a wide array of services to meet each individual need, including: dental check-ups, teeth cleanings, exams and X-rays, root canal, tooth extractions, teeth whitening, and more. All of our Pennsylvania dentists are experienced in performing ALL avenues of general dentistry. Unlike some dental practices that only provide limited services, we ensure everything-and everyone-is taken care of. As a company founded by a dentist, we make sure all decisions are based upon what is best for our patients, plain and simple.
Our goal is to ensure this is the last dental office you have to look for in York. At Dental Dreams, we strive to deliver the quality care all patients deserve in a fun and friendly environment. We are committed to bringing high-quality dentistry to all members of the York community, regardless of their payment method.